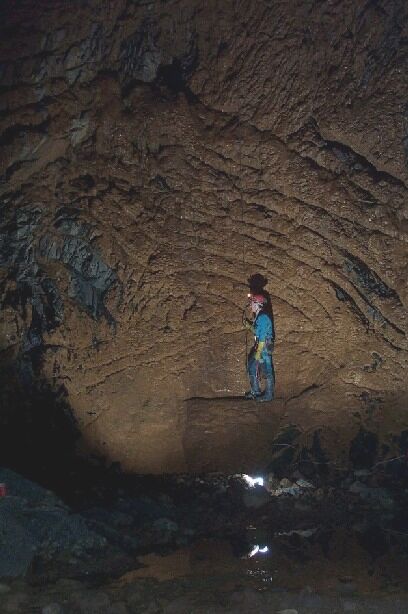 Sixth expedition: 2002 *NEW DEPTH RECORD*
(click here for survey of the deepest cave in Vietnam)
From December 18th 2001 till January 10th 2002, Tua Chua and Tam Duong regions were visited again during the 6th expedition. Towards the end of our stay, some initial prospecting was also done on the Sin Ho plateau. Twenty caves were surveyed with a total development of 6.5km during this expedition.
The Cang Ti caves were further explored and ended a bit too soon; Cang Ti 1 (159m, -137m) has an entrance pitch of 119m and ends on a choke. The sinkhole of an important river, Cang Ti 2 (376m, -254) ended on a small sump. The presence of living and croaking frogs throughout the cave - including on the walls of the 85m "Pitch of the Suicidal Frogs" - was quite remarkable. More to the north-west of the Tua Chua Plateau, around the village of Lau Cau Phin, several beautiful caves were found, with rather small dimensions (Lau Cau Phin 1, 208m, -99). In the northern part, close to the city of Sin Chai, a sink was explored (342m, -193) till the top of a 20m pitch and is still going.
The big news came from the Tam Duong area, where on Christmas Eve, Cong Nuoc was pushed down to a master cave at -600m which was however soon choked in both directions. It became the deepest cave of Vietnam and Southeast Asia! Since it was forbidden to walk through the mountains at night, the team was forced to spend the nights inside. Interesting geological phenomena, such as basalt intrusions, could be observed. Also in Chieu Sai Pin area, Yen Chau Do cave was descended till a too narrow crack at -301m. The longest cave explored during this expedition was the resurgence of Xa Nam Loong (1208m, +81).
Back to Top